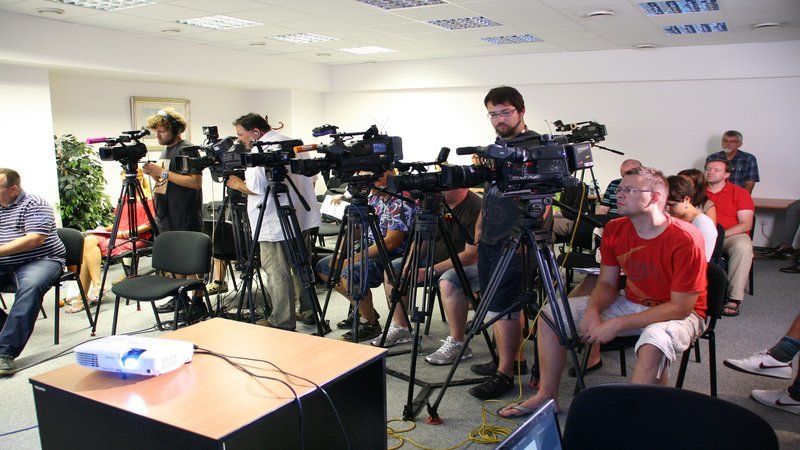 journalists and photographers at press conference | Pixabay
A complaint filed by journalists and photographers against the state of California opposing a proposed law that would limit earnings from freelance editorial submissions was dismissed last week.
The American Society of Journalists and Authors (ASJA) and the National Press Photographers Association (NPPA) sued California Attorney General Xavier Becerra in the Central District Court of California, alleging that the state is violating the U.S. Constitution by limiting writers and photographers to 35 freelance content submissions per year under Assembly Bill 5.
"By enforcing the 35-submission limit, Defendant, acting under color of state law, unconstitutionally burdens the press in violation of the First and Fourteenth Amendments to the U.S. Constitution, because many of Plaintiffs' members are journalists," wrote attorney Caleb R. Trotter in the plaintiff's opening brief.
However, U.S. District Judge Philip S. Gutierrez decided on March 20, 2020 that the Plaintiffs had not made any allegations that the law was adopted to favor or disfavor any message.
"Plaintiffs' allegations in the complaint rest entirely on the assertion that the 35-submission limit and videography exception are content-based distinctions on the face of the law and single out journalistic speech, thus unconstitutionally burdening speech," Judge Gutierrez said during a hearing in which he dismissed plaintiffs' lawsuit. "The Court has rejected these arguments."
Under Assembly Bill 5, after 35 submissions to a client, California-based writers and photographers are required to become employees, according to media reports.
"One factor in dividing between independent contractor and employee may be the frequency of the relationship," said William B. Gould IV, an attorney, professor of law at Stanford Law School and author of the book A Primer on American Labor Law (6th edition. 2019). "The demarcation line drawn by the legislature may or may not be appropriate but that is for the legislature not the courts to decide as it has absolutely nothing to do with speech."
But while the judge granted Defendant AG Becerra's motion to dismiss, he also gave ASJA and NPPA a second chance to rewrite their complaint and file again.
"Plaintiffs may file an amended complaint consistent with this order no later than April 17, 2020," the Judge said. "Failure to file an amended complaint by that date will result in dismissal of the Plaintiffs' claims with prejudice."
Workplace flexibility, income certainty and financial security are all hanging in the balance for most small business owners due to the COVID-19 outbreak, according to a spokesperson for the National Federation of Independent Business (NFIB), which represents more than 15,000 independent businesses and small businesses in California.
"Policymakers should wait to see what the new normal is in light of COVID-19," said John Kabateck, NFIB California state director. "One of the wisest things the legislature can do is push the pause button on AB 5."